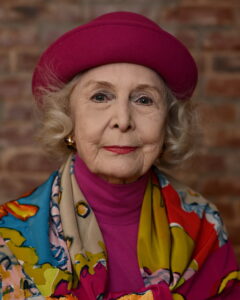 WOMEN OF ACHIEVEMENT
2020
STEADFASTNESS
for a woman with a lifetime of achievement:
Beverly Marrero
Beverly Marrero began a lifetime of activism in 1960 as a young mother knocking on doors for Sen. John. F. Kennedy's presidential campaign. Over the next four decades, she campaigned for many Democratic candidates and represented Tennessee at the 1976 Democratic National Convention. She became a candidate herself in 2003, serving in the General Assembly until losing her seat following redistricting in 2012. Just this week, she tweeted about writing her senators in support of Supreme Court nominee Judge Ketanji Brown Jackson. That's 62 years of advocacy and counting.
Beverly traces her political involvement to her 9th grade civics teacher who instilled in her the idea that government was only as good as the people involved. Her religious upbringing emphasized civil rights. And growing up in segregated Memphis, she realized how unfair society was to black people in our community. Campaigning for Kennedy was a way to address those inequities. Formative memories of that time included the assassinations of Kennedy and two other leaders she admired: Martin Luther King, Jr., and Robert F. Kennedy. She also recalls ironing clothes in front of the television while watching the Watergate hearings.
It was no surprise that she responded when a friend of a friend encouraged her to support little-known Georgia Gov. Jimmy Carter for president. She and two other Memphis women drove to Atlanta and became the only non-Georgians among members of the so-called Peanut Brigade of Carter supporters who flew to New Hampshire for that state's primary. Carter won.
Beverly campaigned in other states and was tapped to represent Tennessee on the Convention Rules Committee, where she played a role in Democratic Party history. Beverly and a delegate from North Carolina introduced a measure to guarantee women delegates an equal share of the seats for the 1980 convention. At that time, women did all the daily work in the campaigns – knocking on doors, folding paper, stuffing envelopes, and sorting bulk mail. The men went to the conventions. The controversial gender equality measure failed in the Rules Committee, and on June 21, 1976, a headline in the New York Times read "Democratic Panel Refuses Equality Pledge to Women".
Beverly moved to Florida a few years later but remained close to her good friend Congressman Steve Cohen. After she returned to Memphis in 1999, Cohen encouraged her to run for the General Assembly. Beverly hesitated but eventually she became a first-time candidate at age 64. She won a seat in the Tennessee House of Representatives in 2003. When Cohen was elected to Congress, he endorsed Beverly for his Tennessee Senate seat, which she won in 2007 and held until 2012.
As an elected official Beverly was an outspoken champion for civil rights, consumer rights, the environment, and women's, children's, and LGBTQ issues. She also was known for her signature fashion accessory: a hat. But the true defining aspects of her legislative tenure were her values and her approach, said former legislative colleague Jeanne Richardson.
Beverly knew how to make a compelling point in debate without alienating her opponent, Richardson said. "Her points are always based on her own loyalty to her basic values, the improvement of the human condition especially for those most in need without resources or respect, the improvement of the environment out of respect for future generations and nature itself, and a strong sense of fairness and equity in all human interactions including those with the environment."
Those values led Beverly to take unpopular – and sometimes ultimately unwinnable — stands in Nashville. She voted against holding a referendum to amend the state Constitution to ban gay marriage. The referendum passed, but the ban was later overturned by the U.S. Supreme Court.
In 2006, while on the Public Health and Family Assistance Subcommittee, she voted against a proposed amendment that would have given state lawmakers more power to restrict and regulate abortions. She worked diligently to keep this in committee for many years, but it eventually passed the House and the Senate, became Amendment One on the 2014 ballot, and was approved by Tennessee voters. In 2012, during what would become her final legislative sessions, she cast the sole vote against a Senate bill requiring an abstinence-centered family life curricula in Tennessee public schools.
Beverly's commitment to economic issues led to her recognition as a Family Economic Success Champion by Women in Government, a national organization that supports women state legislators. The organization highlighted several bills including protecting identify theft and reducing foreclosures.
For her stewardship of the environment, in 2009 she received the highest ranking of any legislator by the Tennessee Conservation Voters. Beverly fought for clean water, recycling, minimum energy requirements for appliances, and equitable representation for environmental interests on air, water and solid waste quality control boards. A key conservation accomplishment was successfully sponsoring legislation to make Overton Park's Old Forest a state Natural-Scientific area in 2011.
The following year, Beverly lost her re-election bid after her Senate district was redrawn. She returned to her role as a citizen advocate. In 2014, Planned Parenthood honored Beverly with its highest honor, the James Award for her work in the House, the Senate, and in the community, saying: When we needed an Attorney General's ruling on pending legislation, Beverly made the request. When state agencies were slow to respond to requests for information, Beverly broke up the logjam. She spoke out against legislation that harmed women, families and children, even when she stood alone in the Tennessee Senate chambers to do so.
Today, Beverly's priority is advocating for seniors. At a time when many people have been retired for nearly two decades, Beverly was just reappointed as chair of the advisory committee to the Aging Commission of the Mid-South.
Whether working for a candidate, sponsoring legislation or volunteering in the community, Beverly sums up her accomplishments in a single statement: "I think we have a responsibility to do something to level the playing field."