Women of Achievement, Inc. was founded in 1984 by a group of women dedicated to honoring the extraordinary women who have made Memphis and Shelby County better through their lives and accomplishments. The coalition of diverse civic and professional groups and support agencies organizes events to recognize and celebrate these women.
33rd Women of Achievement awards reception salutes National Women's History Month




Eight local women were celebrated on March 26 for changemaking leadership across Memphis and Shelby County.




The Women of Achievement honorees for 2017 were:




Courage - Rev. Lisa Anderson, Room at the Inn

Determination - Ines Negrette, Casa Luz

Heroism - Rebecca Terrell, CHOICES

Heritage - Mary Magdalene Solari, artist and teacher

Initiative - Kamekio Lewis, domestic violence survivor and writer

Steadfastness - Joyce Springfield-Collins, civic leader

Vision - Ruby O'Gray and Karen Moore, Women's Theater Festival Memphis

2017 awardees and presenters

The celebration was at the Holiday Inn University of Memphis with a 2 p.m. tea party reception and 3 p.m. awards.




Co-hosts were Adrienne Bailey, retired CEO of Big Brothers Big Sisters and Emily Ballew Neff, director of the Memphis Brooks Museum of Art.

We celebrated women who broke barriers for female artists, who stage a festival showcasing women in theater, who fight for reproductive rights, who speak out about surviving violence, who house the homeless, who create services for Latina victims of partner violence and whose ongoing leadership sustains women's organizations.

Here is a link to a story about the 2017 WA event - thanks to Emily Keplinger for achieving it. Share with your circles!
http://citycurrent.com/blogdetails/324/Women-of-Achievement-2017

For more information, call 901-378-3866 or email dclubb@memphiswomen.org
---
Women of Achievement 2016 Awards
More than 200 gathered on March 13 to celebrate National Women's History Month and honor eight women from the Memphis area for community leadership and change-making.
The music of Lil Armstrong and Alberta Hunter, the Heritage honorees, played during the reception. Prior honorees Summer Owens and Africa Gonzalez-McCloy hosted the awards presentation.
Presenters were 1997 Heroism honoree Sheila White Parrish, retired Justice Janice Holder, boxer Teagan "Tiny Turbo" Reed, past WA president Pam Routh, Dr. Zandria Robinson of Rhodes College, Bridges USA teen leaders Becca Folkes-Lallo and Eritrea Temesghen and Nora Tucker, manager of the Blues Hall of Fame.
Women of Achievement for 2016 are:
Heritage, for a woman whose achievements still enrich our lives: Jazz musician and bandleader Lil Hardin Armstrong (1898-1971) and blues singer and songwriter Alberta Hunter (1895-1984)
Courage, for a woman who, facing active opposition, backed an unpopular cause in which she deeply believed: Ashley Coffield, president and CEO, Planned Parenthood Greater Memphis Region
Determination, for a woman who solved a glaring problem despite widespread inertia, apathy or ignorance around her: Claudia Haltom, founder and CEO of A Step Ahead Foundation
Steadfastness, for a woman with a lifetime of achievement: Philanthropist and civic volunteer Dorothy Kirsch
Initiative, for a woman who seized the opportunity to use her talents and created her own future: Bennie Nelson West, founder and executive director of the Memphis Black Arts Alliance
Vision, for a woman whose sensitivity to women's needs led her to tremendous achievements for women: Linda Sessoms, president and founder Sisters-in-Motion Memphis
Heroism, for a woman whose heroic spirit was tested and shown as a model to all in Shelby County and beyond: Leah Walton, transgender activist from Oxford, MS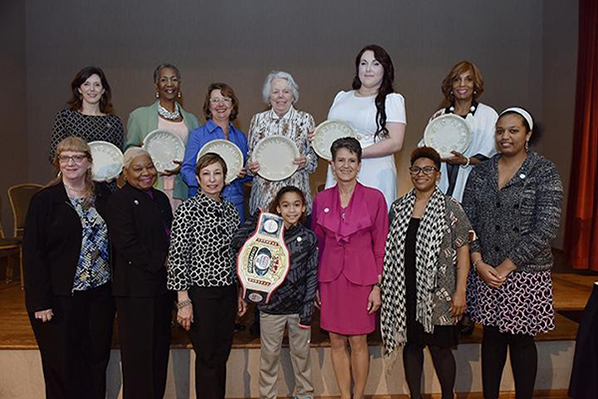 The 2016 Women of Achievement honorees were (back row) Ashley Coffield, Courage; Bennie Nelson West, Initiative; Claudia Haltom, Determination; Dorothy Kirsch, Steadfastness; Leah Walton, Heroism; Linda Sessoms,Vision. Presenters included Nora Tucker, Sheila White Parrish, Janice Holder, Teagan Reed, Pam Routh, Zandria Robinson, and Eritrea Temesghen.
Make Nominations Now for 2018 Women of Achievement Awards
Nominations are due now for the 34th annual Women of Achievement awards. Click here to view or download the form.  Nominations must be emailed or postmarked by Jan. 15, 2018.
The awards given by a coalition of women and organizations honor outstanding community service and leadership in the categories of Initiative, Heroism, Courage, Determination, Vision, Steadfastness and Heritage. Find full definitions and a complete list of past honorees here on our website.
To participate in the selection process or to help plan the event, become a member of Women of Achievement. The initial selection session is set for Jan. 27. All are welcome to join and participate. For further details or questions, contact Deborah Clubb at dclubb@memphiswomen.org or phone 901-378- 3866.
 The annual awards celebration will be on March 18 during National Women's History Month. Plan now to attend at the Holiday Inn University of Memphis – reception at 2 p.m., awards recognition at 3 p.m. Admission is $30.
NOMINATIONS
All nominations must be postmarked by Jan. 15, 2018. Women of Achievement • 2574 Sam Cooper Blvd. Memphis, TN 38112. Find nomination form online here.
---
JOIN or RENEW YOUR MEMBERSHIP
Find membership form online here.

The Donate button below will take you to PayPal at the Memphis Area Women's Council website, where you can make your Women of Achievement dues payment via credit card. Make checks payable to Women of Achievement, mailed to 2574 Sam Cooper Blvd. Memphis, TN 38112.


---
Donations
This button will take you to PayPal at the Memphis Area Women's Council where you can make payment for Women of Achievement reservations. Please email any additional guests's names to dclubb@memphiswomen.org

Make checks payable to Women of Achievement, mailed to 2574 Sam Cooper Blvd. Memphis, TN 38112.

To order the book series which highlights the first 30 years of Women of Achievement, call 901-378-3866.
---