Women of Achievement, Inc. was founded in 1984 by a group of women dedicated to honoring the extraordinary women who have made Memphis and Shelby County better through their lives and accomplishments. The coalition of diverse civic and professional groups and support agencies organizes events to recognize and celebrate these women.
The 33rd annual Women of Achievement awards event will take place on March 26, 2017 at the University of Memphis Holiday Inn.
And you can participate in several ways.
First, you can nominate a deserving woman. The nomination deadline is Jan. 16.
Second, you can participate in the initial selections process, which will take place on January 28. For more information on how to be part of the selection process, contact Deborah Clubb at (901) 378-3866 or dclubb@memphiswomen.org.
To nominate someone, please print a nominations form here.
---
Women of Achievement 2016 Awards
More than 200 gathered on March 13 to celebrate National Women's History Month and honor eight women from the Memphis area for community leadership and change-making.
The music of Lil Armstrong and Alberta Hunter, the Heritage honorees, played during the reception. Prior honorees Summer Owens and Africa Gonzalez-McCloy hosted the awards presentation.
Presenters were 1997 Heroism honoree Sheila White Parrish, retired Justice Janice Holder, boxer Teagan "Tiny Turbo" Reed, past WA president Pam Routh, Dr. Zandria Robinson of Rhodes College, Bridges USA teen leaders Becca Folkes-Lallo and Eritrea Temesghen and Nora Tucker, manager of the Blues Hall of Fame.
Women of Achievement for 2016 are:
Heritage, for a woman whose achievements still enrich our lives: Jazz musician and bandleader Lil Hardin Armstrong (1898-1971) and blues singer and songwriter Alberta Hunter (1895-1984)
Courage, for a woman who, facing active opposition, backed an unpopular cause in which she deeply believed: Ashley Coffield, president and CEO, Planned Parenthood Greater Memphis Region
Determination, for a woman who solved a glaring problem despite widespread inertia, apathy or ignorance around her: Claudia Haltom, founder and CEO of A Step Ahead Foundation
Steadfastness, for a woman with a lifetime of achievement: Philanthropist and civic volunteer Dorothy Kirsch
Initiative, for a woman who seized the opportunity to use her talents and created her own future: Bennie Nelson West, founder and executive director of the Memphis Black Arts Alliance
Vision, for a woman whose sensitivity to women's needs led her to tremendous achievements for women: Linda Sessoms, president and founder Sisters-in-Motion Memphis
Heroism, for a woman whose heroic spirit was tested and shown as a model to all in Shelby County and beyond: Leah Walton, transgender activist from Oxford, MS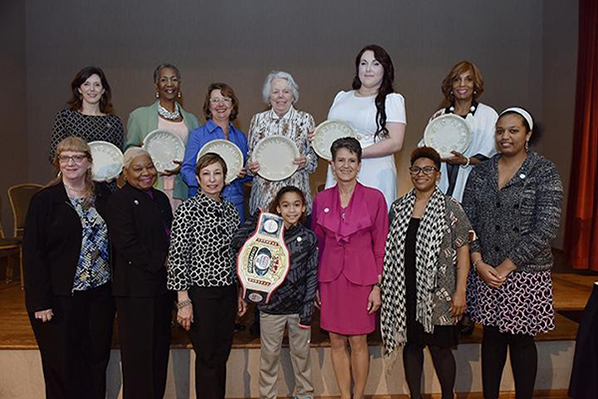 The 2016 Women of Achievement honorees were (back row) Ashley Coffield, Courage; Bennie Nelson West, Initiative; Claudia Haltom, Determination; Dorothy Kirsch, Steadfastness; Leah Walton, Heroism; Linda Sessoms,Vision. Presenters included Nora Tucker, Sheila White Parrish, Janice Holder, Teagan Reed, Pam Routh, Zandria Robinson, and Eritrea Temesghen.
NOMINATIONS
It's not too early to nominate outstanding candidates for the 2017 awards. Find nomination form online here.
---
JOIN or RENEW YOUR MEMBERSHIP
Find membership form online here.

The Donate button below will take you to PayPal at the Memphis Area Women's Council website, where you can make your Women of Achievement dues payment via credit card. Make checks payable to Women of Achievement, mailed to PO Box 41096, Memphis, TN 38174.


---
Donations
This button will take you to PayPal at the Memphis Area Women's Council where you can make payment for Women of Achievement reservations. Please email any additional guests's names to dclubb@memphsiwomen.org

Make checks payable to Women of Achievement, mailed to PO Box 41096, Memphis, TN 38174.

To order the book series which highlights the first 30 years of Women of Achievement, call 901-378-3866.
---