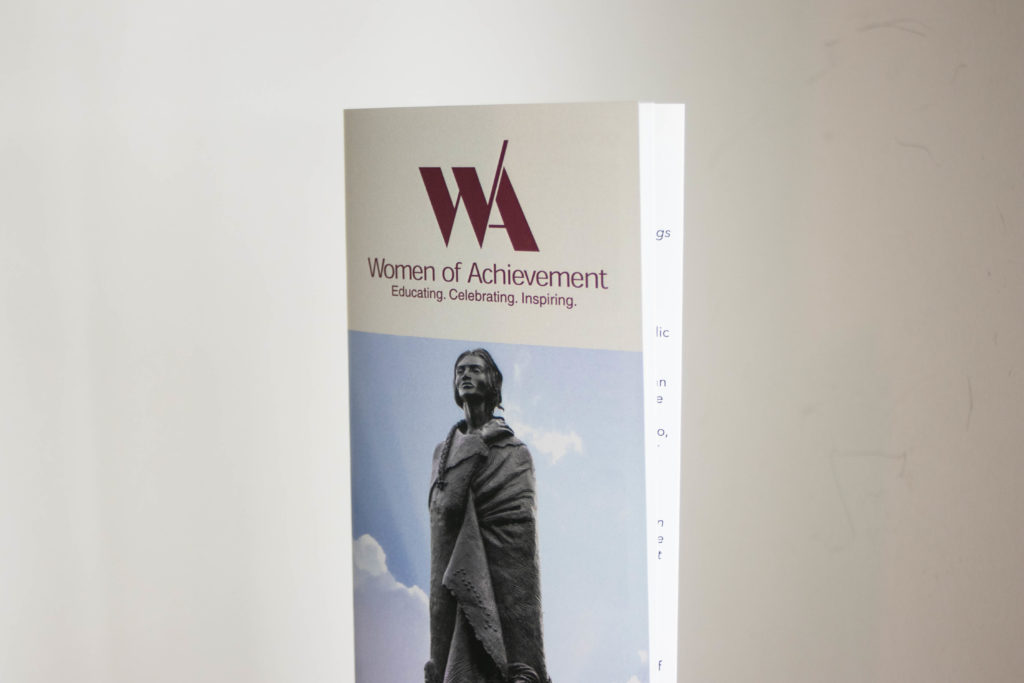 The Memphis Women's Legacy Trail is a project to document, remember, and celebrate the women of Memphis, Tennessee that have made a lasting impact on the city through their work and lives. Compiled by Dr. Beverly Bond, Dr. Margaret Caffrey, Judy Card, Deborah Clubb, Dr. Gail Murray, Jimmy Ogle, and Laura Todd, the brochure and information is the first of its kind in Memphis. Our goal is to raise funds to expand the project in hopes to share the stories, history, and vision of these remarkable Memphis women.
A special, first-edition brochure was unveiled at the 35th Women of Achievement award ceremony on Sunday, March 24th, 2019.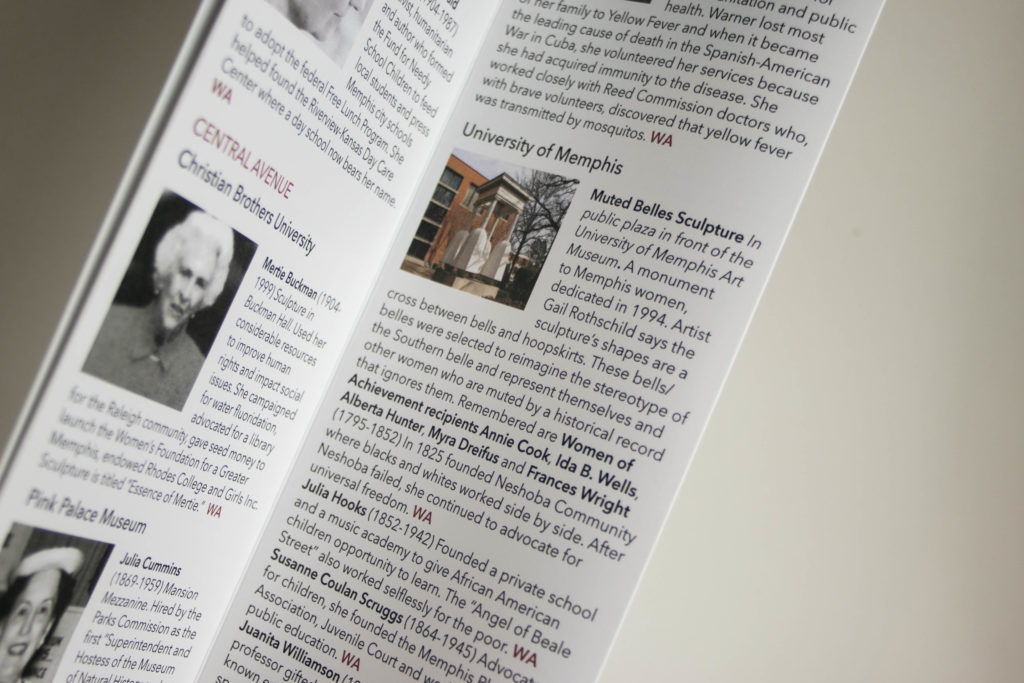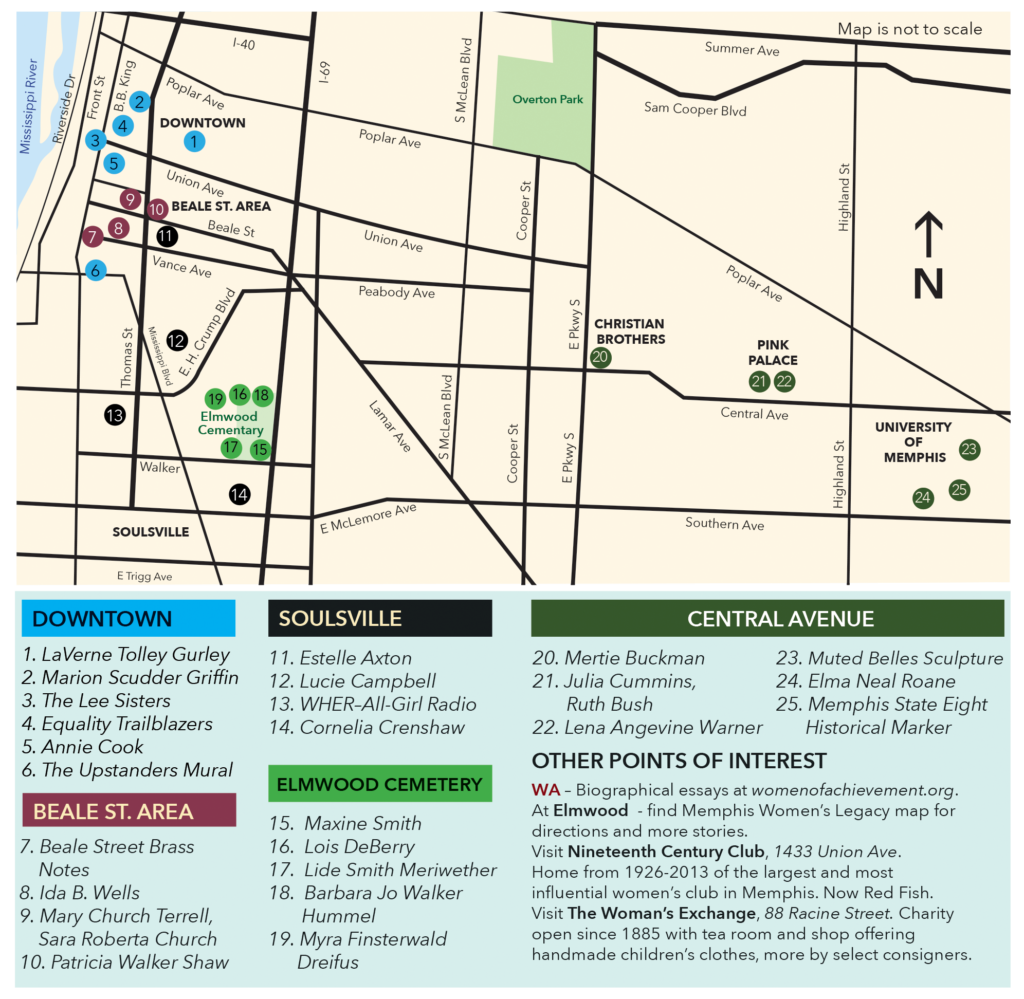 Learn more about these notable Memphis women or a section of the trail by clicking on the name.
1. LaVerne Tolley Gurley – Researcher and educator specializing in radiological technology
2. Marion Scudder Griffin – First woman attorney in Tennessee
3. The Lee Sisters – Founders of the first African-American owned tour company in Tennessee
4. Equality Trailblazers – Mural honoring local suffragists, civil rights and other women's rights activists
5. Annie Cook – Turned her home into a hospital to care for victims of the Yellow Fever epidemic
6. The Upstanders Mural – Mural honoring Memphians who stand up for the rights of others
7. Beale Street Brass Notes – Markers honoring 24 women among musicians, composers, disc jockeys, promoters, and music supporters celebrated in Beale Street's sidewalks
8. Ida B. Wells – Teacher turned journalist, anti-lynching activist and suffragist
9. Mary Church Terrell – Suffragist, founder and later president (1896-1901) of the National Association of Colored Women, a co-founder of the NAACP
and Sara Roberta Church – First African American woman to be elected to the Tennessee Republican Party's Executive Committee
10. Patricia Walker Shaw – President of Universal Life Insurance Company and first woman to serve on the Memphis Light, Gas and Water Board
11. Estelle Axton – One of the founders of STAX recording studio
12. Lucie Campbell – Teacher and musician
13. WHER–All-Girl Radio – First radio station in the nation to be completely staffed by women, First voice heard was trailblazing broadcaster Marion Keisker
14. Cornelia Crenshaw – Supporter of the Worker's Sanitation Strike in 1969
(Stop at Elmwood office, 824 S. Dudley, for map Mon-Sat)
15. Maxine Smith – Civil rights and public education leader
16. Lois DeBerry – First female and first African American Tennessee Speaker Pro Tempore
17. Lide Smith Meriwether – Leader and organizer of the Woman's Suffrage Movement in Memphis
18. Barbara Jo Walker Hummel – Miss Memphis and the first Miss America from Memphis in 1947
19. Myra Finsterwald Dreifus – Activist, humanitarian and author who formed the Fund for Needy School Children
20. Mertie Buckman – Advocate for human rights and social issues
21. Julia Cummins – first Superintendent and Hostess of the Museum of Natural History and Industrial Arts, for the Parks Commission
and Ruth Bush – Parks Commission director that started educational programs and and Youth Development
22. Lena Angevine Warner – Yellow Fever epidemic nurse and fighter for better sanitation and public health
23. Muted Belles Sculpture – In public plaza in front of the University of Memphis Art Museum. Monument dedicated in 1994 to Memphis women by artist Gail Rothschild. Remembered are Women of Achievement recipients Annie Cook, Ida B. Wells, Alberta Hunter, Myra Dreifus, as well as:
Frances Wright (1795-1852) In 1825 founded Neshoba Community where blacks and whites worked side by side. After Neshoba failed, she continued to advocate for universal freedom.
Julia Hooks (1852-1942) Founded a private school and a music academy to give African American children opportunity to learn. The "Angel of Beale Street" also worked selflessly for the poor.
Susanne Coulan Scruggs (1864-1945) Advocate for children, she founded the Memphis Playground Association, Juvenile Court and worked to improve public education.
Juanita Williamson (1917-1993) LeMoyne-Owen professor gifted in both teaching and scholarship, known especially for her research on the impact of speech patterns on learning.
24. Elma Neal Roane – led the struggle for women's rights in athletics
25. Memphis State Eight Historical Marker – Honoring eight African Americans who broke the color barrier at Memphis State University in 1959
---
OTHER POINTS OF INTEREST
At Elmwood – find Memphis Women's Legacy Trail map for directions and more stories.
Visit Nineteenth Century Club, 1433 Union Ave. Home from 1926-2013 of the largest and most influential women's club in Memphis. Now Red Fish.
Visit The Woman's Exchange, 88 Racine Street. Charity open since 1885 with tea room and shop offering handmade children's clothes, more by select consigners.
---
---
ADDITIONAL RESOURCES
Tennessee Woman Suffrage Heritage Trail
National Women's History Museum
National Women's Hall of Fame
List of women's history websites, organized by state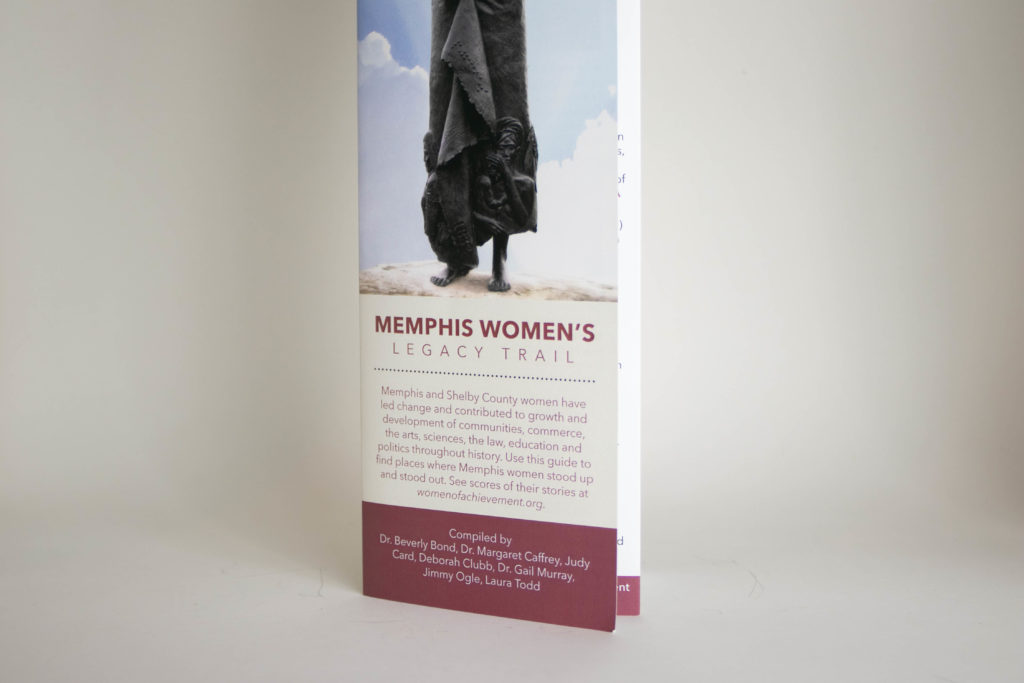 ---
Women of Achievement, Splash Creative and partners are raising money to have these brochures printed and distributed throughout the city of Memphis. To donate to this campaign, please click the PayPal button below. This button will take you to PayPal at the Memphis Area Women's Council where you can donate. Thank you for your support!
Alternatively, make checks payable to Women of Achievement, mailed to P O Box 95, Memphis TN 38101 .