Hope you will join us at the Women of Achievement Awards in 2017.
---
2016 Awards

The 32nd annual award ceremony celebrating National Women's History Month and honoring eight women from the Memphis area for community leadership and change-making was held at the Holiday Inn-University of Memphis on March 13.

The event was hosted by prior honorees Summer Owens and Africa Gonzalez-McCloy. Presenters were 1997 Heroism honoree Sheila White Parrish, retired Justice Janice Holder, boxer Teagan "Tiny Turbo" Reed, past WA president Pam Routh, Dr. Zandria Robinson of Rhodes College, Bridges USA teen leaders Becca Folkes-Lallo and Eritrea Temesghen and Nora Tucker, manager of the Blues Hall of Fame.

The 2016 honorees:

Courage — Ashley Coffield
Determination — Claudia Haltom
Heritage — Lil Armstrong & Alberta Hunter
Heroism — Leah Walton
Initiative — Bennie Nelson West
Steadfastness — Dorothy Kirsch
Vision — Linda Sessons


---
2015 Awards


The 31st annual award event commemorating National Women's History Month was held on March 22 at the Holiday Inn-University of Memphis, 3700 Central Ave.


Storyteller Elaine Blanchard, a 2014 WA honoree, and Beverly Robertson, recently retired president of the National Civil Righrts Museum, served as hosts for the event.

The 2015 honorees:

Courage — Amerah Shabazz-Bridges
Determination — Shelia Williams
Heritage — Emma Wilburn
Heroism — Dr. Owen Phillips
Initiative — Nadia Matthews
Steadfastness — Barbara C. King
Vision — Bettye Boone




---
Email questions to dclubb@memphiswomen.org


---
2009 awards


More than 300 people attended the silver anniversary edition of the Women of Achievement awards in 2009 at The University of Memphis Holiday Inn to celebrate the latest list of seven honorees — Africa Gonzales, Nancy Williams, Sonja White, Caroline Turn, Jodie Vance, Gloria Kahn, and the late Alma Hansen.

In a special tribute to local potter Mimi Dann, award plates representing all 25 years of Women of Achievement award ceremonies were displayed on tables across the front of the dais. Ms. Dann has made the unique works of art each year as a donation to Women of Achievement and to the more than 175 women who have been awarded.

The audience included numerous former awardees, more than a dozen local elected officials, and several founders of the organization.

The first Women of Achievement ceremony was held in 1984 at the New Daisy Theatre on Beale Street. The event has been held in other locations, including the Peabody Hotel, but has settled on the hotel at the University for several years.

Awards are given to six living women each year for Determination, Initiative, Vision, Courage, Steadfastness and Heroism. In addition a women of the past — or, in some cases numerous women of the past such as Tennessee suffragists and Memphis yellow fever martyrs — is honored in the category of Heritage.


---


2009 panel discussion delves into the legacies of activism

Three Women of Achievement honorees from years past and their children spoke about community activism and making a difference in the 2009 Change Makers Panel at the Hooks Central Library in Memphis.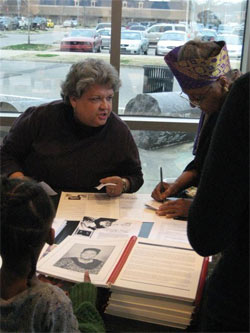 (click for more photos of this event on our Flickr)
The annual event occurs during National Women's History Month and is part of the coalition's year-long celebration of women and their achievements. About 40 people were in the audience this year for the topic "Change-Makers: A Legacy of Achievers." Panel participants included: Happy Jones, 1992 Determination awardee, and her daughter Dottie Jones; Kathy Kastan, 2005 Heroism winner, and her son Ben Kastan, and Modeane Thompson, 2007 honoree for Courage and her daughter Andrea Thompson Adam.
The six talked about their work and advocacy and how that has translated across generations. All three of the children, who have found their own way to work for change, credited their mothers and others for a sense of responsibility to work beyond their own circles to make the community better.
A reception before the event was sponsored by the United Way of the Mid-South. Welcome was by WA co-founder Deborah Clubb and current president Susan Mackenzie. Regina Walker, of the United Way, gave closing remarks.
---
Joyce Cobb, 2002 Honoree for Initiative, in the news
Click here for an article from the March 22, 2002 Commercial Appeal highlighting Ms. Cobb's life and cultural contributions.